Are you in the process of planning your wedding? Have you considered hosting a buffet dinner instead of a traditional sit-down meal? There are many benefits of a buffet dinner for your wedding catering. A buffet offers a wide variety of food options for your guests, ensuring that there is something for everyone, even the pickiest of guests.
Guests can also decide for themselves how much they want to eat, rather than having food served to them that they may not want, reducing the amount of waste. If you're looking to change things up a bit, a buffet is also a nice change from your traditional wedding experience.
In the following blog post, we'll explore eleven of the best wedding food ideas for buffet dinners:
1. Cumin Roasted Cauliflower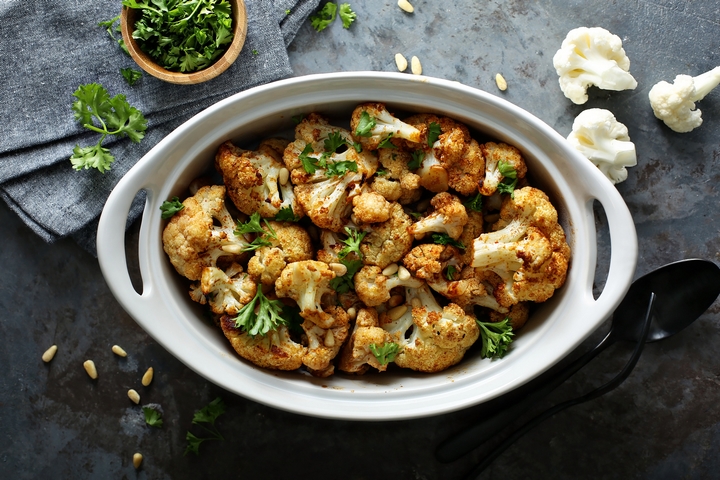 You can't have a buffet without vegetables. This unique take on cauliflower will be sure to please your guests, especially the vegetarians. This dish consists of pomegranate seeds, chopped pistachio, capers, raisins, and mint chimichurri. These wedding food ideas for a buffet sound delicious, right?
2. Sushi Station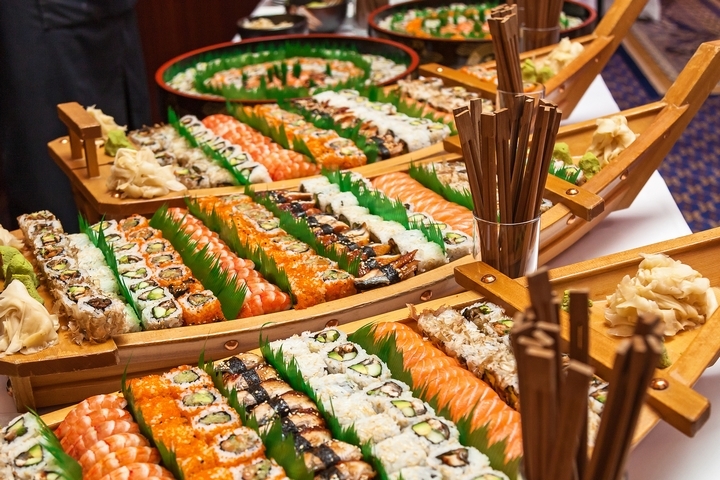 Having different stations incorporated into your buffet is always a fun experience for your guests. With a sushi station, your guests can indulge in a wide variety of sushi options including rice and filling wrapped seaweed, fish or shellfish served alone, and salmon roe (fish eggs).
3. Doughnut Display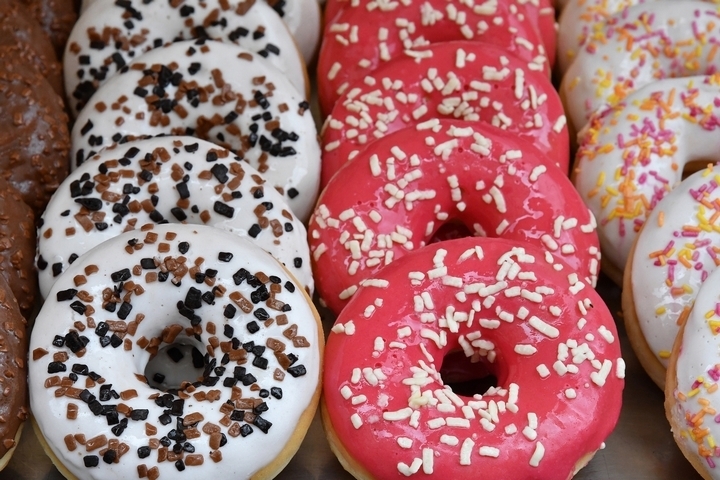 Doughnuts are definitely a trendy item to have on your buffet. Doughnuts have become a gourmet dessert, available in a wide variety of flavours. Not only will a doughnut display draw your guests in visually, but it will satisfy even the greatest of sweet tooth's. Some doughnut options include earl grey doughnuts with icing glaze, vegan churro doughnuts, and gluten-free powdered sugar doughnuts.
4. Bite-Sized Chicken and Waffles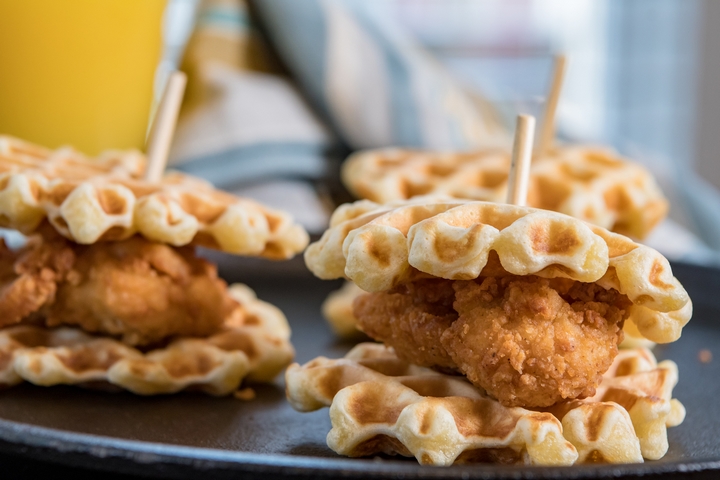 For this take on a fan favourite, offer your guests bite-sized chicken and waffles. This is perfect for a buffet item since it's bite-sized, allowing your guests to try different items, rather than filling up on one dish. This is also a great option to serve during cocktail hour since it's bite-sized.
5. Bacon Bar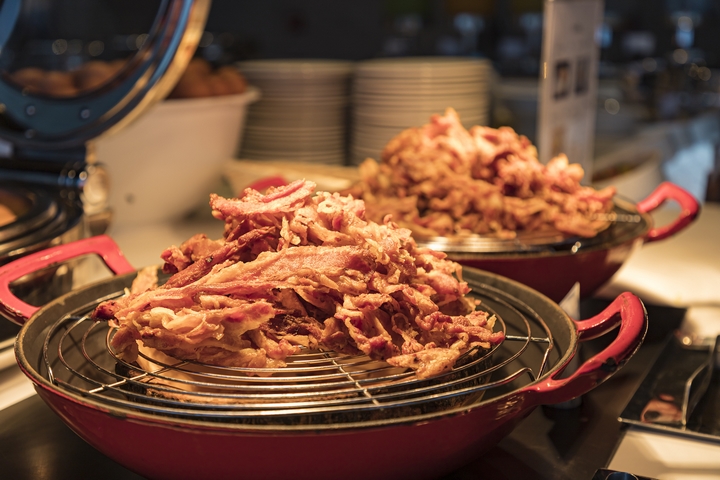 Who doesn't love bacon? Having a bacon bar at your wedding will have guests swooning. Some options to consider for your bacon bar include chocolate-covered bacon, honey jalapeno bacon, and alder smoked bacon. Make sure you have large quantities available as we're sure these wedding food ideas will popular in your buffet.
6. Cheese Station
A cheese station is a must-have, especially for cocktail hour. Serve different types of cheese that pair well with the wine you're serving. Guests can munch on cheese while they mingle and enjoy their cocktails. You can choose how many different types of cheese to offer and have it arranged beautifully on a cutting board or marble platter.
7. Lemon Ricotta Ravioli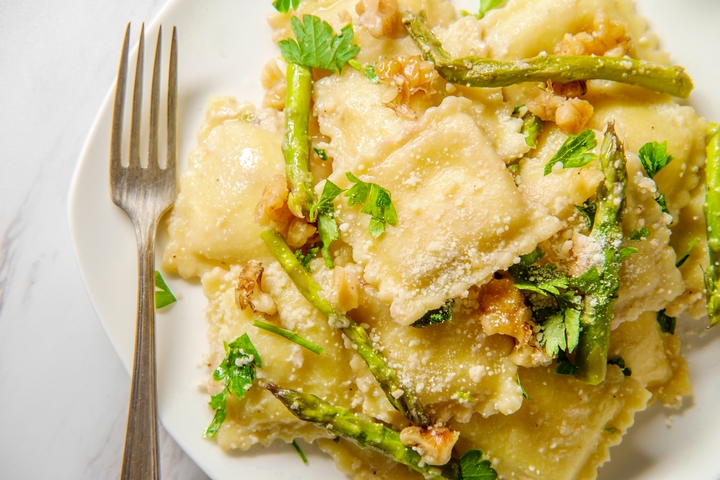 People love pasta, that's why this dish is a must-have for your wedding buffet. Rather than serving traditional pasta, try this unique take on ravioli. This dish is made with saffron bechamel, peas, pistachios, and basil. This dish will have your guests talking long after your wedding is done.
8. Cupcake Station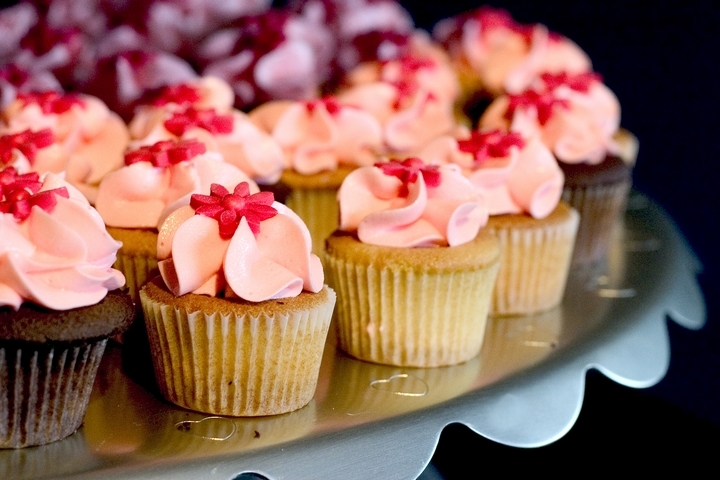 We can't have a list of wedding food ideas for a buffet without cupcakes! Cupcakes have even started to replace traditional wedding cakes. There are so many different types of cupcakes that you can offer something to suit everyone's taste. Some gourmet cupcake options include creamsicle cupcakes, tropical tequila cupcakes, rhubarb and custard cupcakes, sweet coconut and strawberry cupcakes, jelly doughnut cupcakes, and triple salted caramel cupcakes. Is your mouth watering yet?
9. Popcorn Bar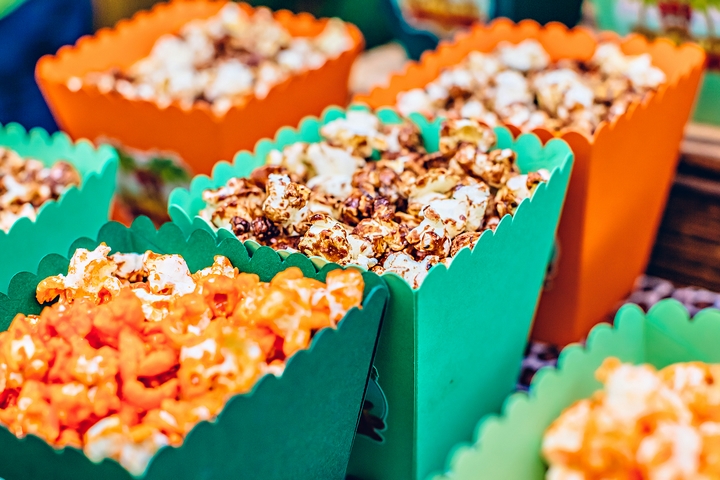 Popcorn is another food option with a gourmet twist. There are so many different flavours of popcorn available these days. Some options include caramel apple popcorn, cookies and cream popcorn, drizzled butter toffee almond pretzel popcorn, and cheesy jalapeno popcorn. Don't forget to put out paper bags for guests to scoop their popcorn into.
10. Chilled Pasta Bar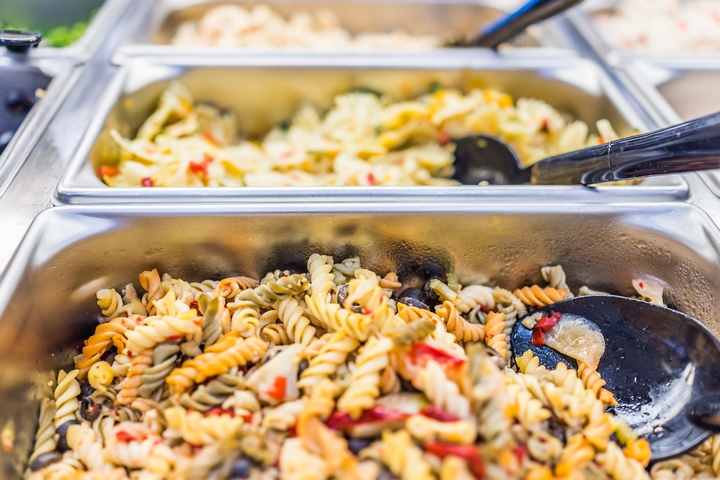 Pasta doesn't always need to be served hot. With a chilled pasta bar, you can offer your guests different types of pasta salad. One option is a summer orzo vegetable salad made with tomatoes, corn, and peaches. Another option is a poppy seed chicken and grape pasta salad made with sliced almonds, diced celery, and dried cranberries.
11. Taco Station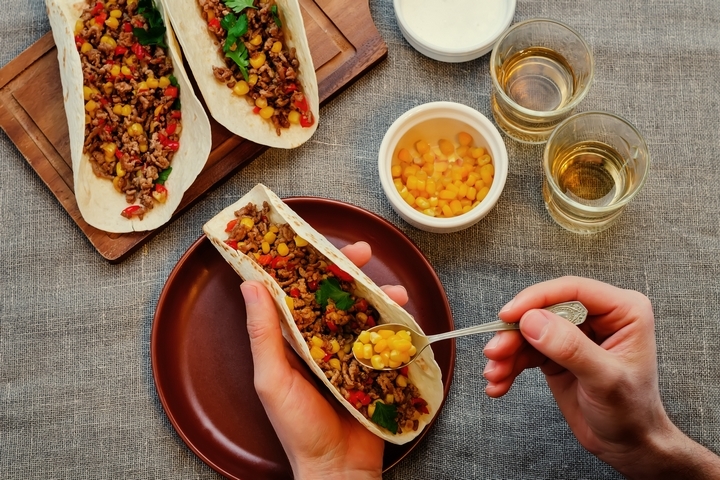 Mexican dishes are quite popular these days, so having a taco station at your wedding will be sure to please your guests. Your taco station can include soft and hard shell tacos, ground beef, rice, corn, sour cream, guacamole, salsa, tomatoes, and beans. Guests can choose which toppings they want for their tacos and keep going back for more.
If you're considering a buffet for your wedding, these wedding food ideas are sure to get your creative juices flowing. Whether you include a variety of different stations, gourmet items and mouth-water desserts, your buffet offering is sure to have your guests swooning.